Different Looks – The Same Pants
Cropped pants are a staple in my Florida wardrobe. They can offer the perfect coverage and comfort between shorts and slacks. Like slacks they can be dressed up or down depending on the occasion. In this post I am featuring the same cropped pants worn for three different occasions.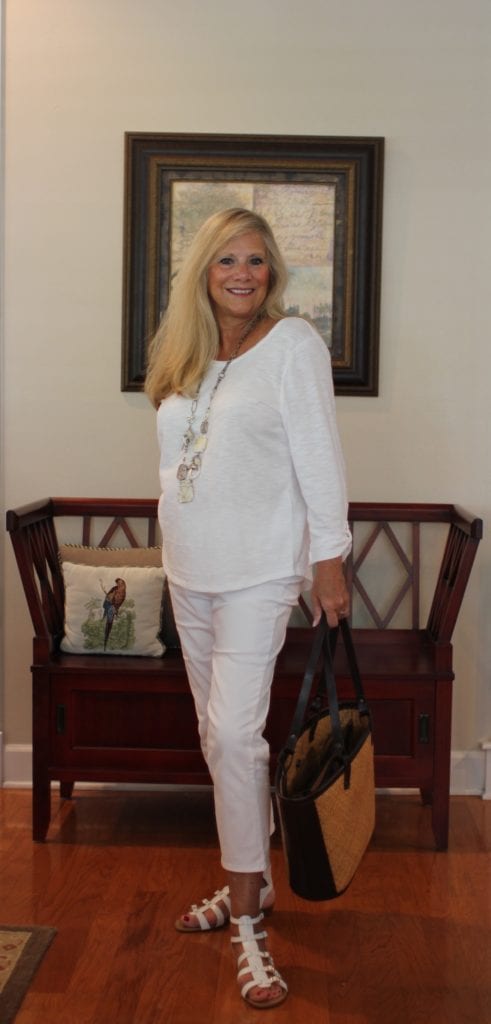 Number One
I'm a huge fan of monochromatic dressing. White on white is my all time favorite color combination in summer. Cool and sophisticated the white on white combo works for great summertime.
This first look is composed of a three quarter length sleeve linen top purchased from Chico's this season. The cropped pants were from Chico's purchased last year. The long stone necklace is old many years old from Chico's. The finishing touch of white gladiator sandals complete the entire look.  A column of one color offers a thinning illusion. The handbag is an old favorite Tommy Bahama purchased in 2003.

Number 2
The second look consists of the same cropped pants with a sheer light weight top. The top is white with a bright orange print. I've accessorized with a long gold and white pearl necklace. My orange, Vince Camuto, bag was purchased at a Dillard's sale. I am happy to report that I got quite the deal. Orange is perfect here in Gainesville…"Gator Country"… football season is fast arriving.  The finishing touch is gold and silver sandals.
Number Three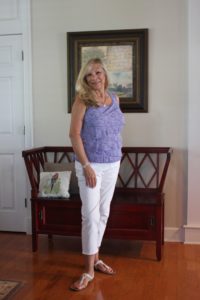 My third look a soft purple and white ruffled top and the same cropped pants. The top is from Chico's three or four years ago.  White and silver necklace along with my standard white sandals from Target. A simple put together and I'm ready to run my errands for the day.
Many of you may be thinking that I am  buying out Chico's department store. I'm not. Chico's started here in Florida and I started shopping there in the 1990's. Over the years I  I have collected lots of  basic pieces and accessories. I now shop the in-store and online sales.

Do you wear cropped pants? How do you like to style yours? Drop me a note in the comments section and share your thoughts.
More posts featuring cropped pants here.
Thanks for stopping by Distinctly Southern Style. you can also follow me on Facebook, Pinterest, Twitter and Instagram or leave me a comment in the section below. I love hearing from you.
Remember to have fun loving and living life to it's fullest!
Rosemary
ps: As always all creative and opinions are my own.
<a href="http://www.bloglovin.com/blog/14981245/?claim=ua9nwz7wrhy">Follow my