Hello October – Goodbye September
It's Time To Start Dressing For Fall
Happy Fall!
It's October 1st and the autumn has definitely arrived! And it's time to change up the colors in my wardrobe… start dressing for fall. I absolutely love this time of year. Now, that the humidity is beginning to subside, you can find me right here on the front porch waiting for my ride. Here's how it works at my house, "Call me when you come into the neighborhood and I meet you outside."  No, I'm not nuts! Remember those two Shelties like nothing better that to greet guests at the front door and many times the Grandkids are in the car. "Keep it simple", that's  my motto.
The Outfit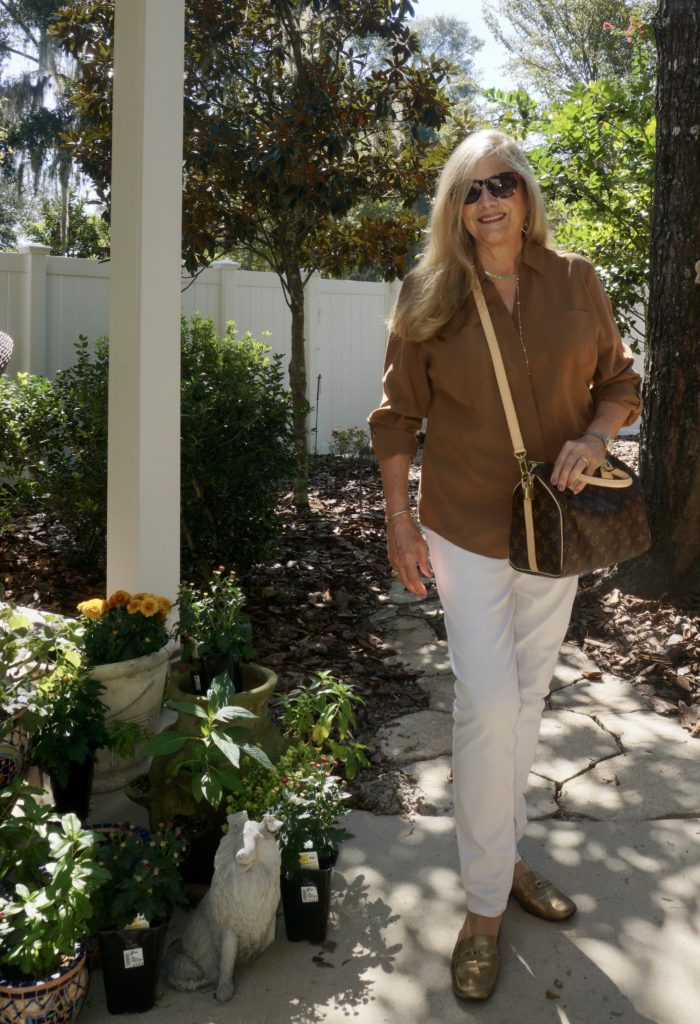 As you all may know, I have been a Chico's customer since back in the 90's. It is a perfect match for a Florida Realtor. With that being said, even when I am closet shopping, I am still pulling out classic, casual outfits from years gone by.
Today's outfit is a silky soft shirt that is paired and tan denim jeans. Of course, the rusty autumn color is the perfect shade when dressing for fall.  Incidentally, I purchased both items at Chico's. The shirt is from last fall's collection. But, there is one available that is very similar (here).  Fortunately, the jeans are still available (here) .
 
I'm loving it all, from the vivid colors of nature, to the fun activities and even the smell of fall in the air.  Bring it on…let's all enjoy the rest of this fall weekend!
Thanks for stopping by!
It's been fun!
Rosemary
You can also follow me on Facebook, Pinterest, Twitter and Instagram or leave me a comment in the section below.  Always, I love hearing from you and reading your comments and thoughts on today's topic.
This website contains links that may generate income for Distinctly Southern Style . All creative and opinions are my own.
SaveSave
SaveSave
SaveSave
SaveSave
SaveSave
SaveSave
SaveSave
SaveSave