Do You Incorporate Your Jeans Into Your Holiday Outfits?
Jeans With A Little Shimmer and Glimmer on Top
Jeans are one of today's number one wardrobe stables. And so, it only stands to reason that we often find ourselves reaching for a pair of jeans even on festive occasions. Fortunately, it works!  Just jazz them up with accessories and a little shimmer, and glimmer on the top.

Closet Shopping
When the holidays roll around, that to-do list just keeps on growing and time for shopping for a special outfit to suit every occasion is limited not only by time but our budgets too.  Plus, not every invite is formal and yet we want to enjoy some holiday dress up fun.
Let's say that we are invited to a house party with friends, we want to be both comfortable and festive. Wala! The perfect time for those favorite jeans and topped off with some sparkle and glitter.

Today's Outfit
Fortunately, I have collected a number of holiday outfits over the years and my core fashion style has remained the same. Thus this allows me to have options in my closet of pieces with which I can mix and match.
Top: 3 years ago from Chico's. I also purchased it in silver.
Jacket: It's part of a suit and probably 10 years old.
Mules: Bandolino  They're older too, from back in the day when mules were on trend before. Ha, ha.
Jeans: Husdon
Bag: Christmas gift from years ago.
Shop The Outfit
As I stated earlier all items featured are from my closet.   So I am sharing links below to separates which are comparable in style and essence and currently available.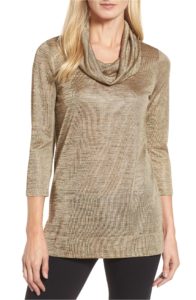 A lightweight iridescent gold tone cowl neck top.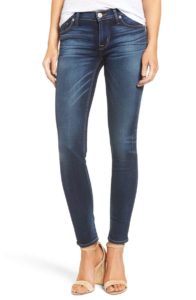 Nico Skinny Jeans by Hudson
The skinny jeans with a versatile indigo wash.
Whinnie Loafer Mule by Kenneth Cole New York
Classic golden loafer mule.
Triangle Bling Glitter Purse by Mogor 
Now, it's time for you to do a little closet shopping. I'll bet you have some great holiday style in your closet just waiting for you do a little mix and match with shimmer and glimmer.
 Until next time, have fun and enjoy the holidays!
Rosemary
SaveSave
SaveSave
This website contains links that may generate income for Distinctly Southern Style. All creative and opinions are my
SaveSave
SaveSave
SaveSave
SaveSave
SaveSave
SaveSave
SaveSave
SaveSave
SaveSave
SaveSave
SaveSave
SaveSave
SaveSave
SaveSave
SaveSave
SaveSave
SaveSave
SaveSave