The Skies Are Blue In Malibu

Lunch at Paradise Cove Beach Cafe

Today, we are stopping for lunch at the Paradise Cove Beach Cafe. It is an amazing beachfront restaurant on the Pacific Coast Highway in Malibu, California. Accordingly, the cafe is located on the public beach of the same name, Paradise Cove.


Indeed, the ambiance of this place is amazing. And without a doubt, the sunshine, sea breezes, and a sandy beach equal pure relaxation. By the same token, not only is the decor laid back and refreshing ….the food is fantastic!

Meanwhile, this little guy is patiently eyeing our lunch. Subsequently, at the end of lunch, he came swooping in for a quick bite before being quickly shooed away.

Yes, this is the best veggie burger ever!
Paradise Cove Beach in Malibu, California

To begin with, Paradise Cove is a great starting point for long beach walks. Plus, the beach cafe is a relaxing stop for some cool refreshment. First, by walking eastward you'll find private beaches and the some of the legendary Malibu mansions. When by heading westward, you come upon steep sandstone cliffs and eventually Little Dume Beach and Big Dume Beach. Ultimately, a very diverse and interesting beach walk.

Besides having a million dollar view, the wooden lounge chairs, thatched umbrellas, and palms trees provide a truly beachy ambiance in the outdoor seating area of the restaurant.

By keeping the California surfer theme, in place. Colorful surfboards are found scattered all around the premises. To be sure, California dreaming and surfing is alive and well in Malibu.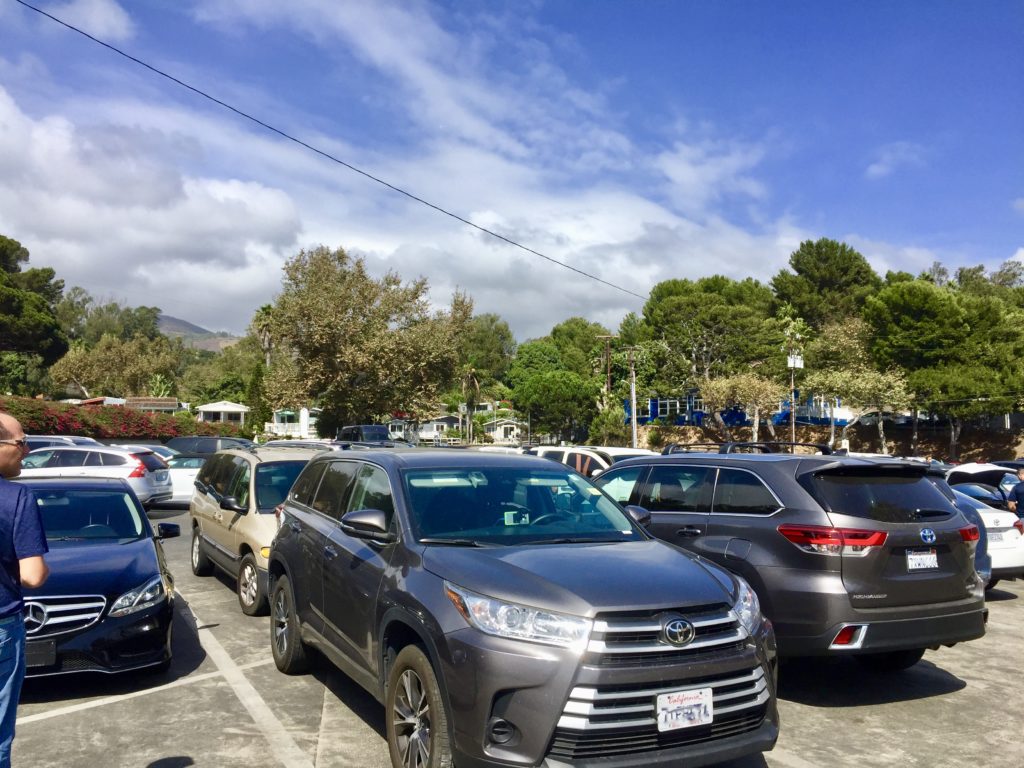 Alas, it's time to leave. It's been fun!
And, oh by the way, if you would like to make this experience permanent, it is possible. Adjacent to the parking lot in the rear is a mobile home park. In fact, there are currently properties for sale.  At this time, the asking prices at Paradise Cove are currently ranging from $600,000 to $3,000,000. Accordingly, this is the starting point for a million dollar view of Malibu. What do you think?
Thanks for stopping by!
By the way, if you missed last week's Travel Thursday's post from the Beverly Hills Hotel, you can check it out here.
See you again soon.
Rosemary
Meanwhile, you can also follow me on Facebook, Pinterest, Twitter, and Instagram or leave me a comment in the section below.  Always, I love hearing from you and reading your comments and thoughts on today's topic.
This website contains links that may generate income for Distinctly Southern Style. All creative and opinions are my own.
SaveSave
SaveSave
SaveSave
SaveSave
SaveSave
SaveSave
SaveSaveSaveSave
SaveSave
SaveSave
SaveSave
SaveSaveSaveSave
SaveSave
SaveSave
SaveSave
SaveSave
SaveSave
SaveSave
SaveSave
SaveSave
SaveSave
SaveSave
SaveSaveSaveSave
SaveSave
SaveSave
SaveSave
SaveSave
SaveSave