Pineapples Mean Welcome Friends
Come on in and let's visit is what the pineapples found at the front door means here in the South. I have always had an affinity for  pineapples. I love to eat them, decorate with them and at times I even to wear them.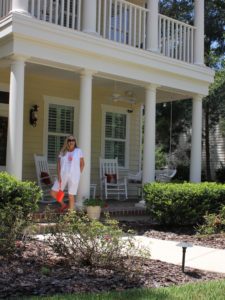 I didn't realize how much of a pineapple lover that I am until a few days ago. I had stepped outside to have a few photo shots taken before leaving for the day. Later I down loaded the photos to my computer. Much to my surprise I am standing with a pineapple on the middle of my top. There is also pineapple pillows on the rockers and the pineapple porch light. As I looked around I saw many more pineapples all around. So what's with the Pineapple?