String Lights Up – Ready To Party?

The string party lights are up! It's been a busy DIY weekend at our house. One summer housing project is complete. We have finally completed the installation of our outdoor party string lights and I am loving them. The Mr. is a fabulous do it DIY guy. This weekend's project took a good month or more. Rainy weather and sunny beach trips, but it's all done. I'm looking forward to drinks and dinners on the patio as the weather starts to cool for fall.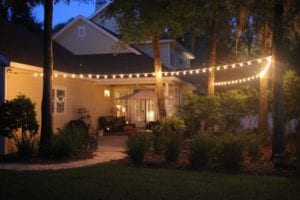 String party lights add just the right ambience for an evening cocktail or dining under the stars.
The string party lights in the trees were this summers project. They were purchased from Lowe's as a Christmas present. Not that it takes us a while to get things done, but we had several other projects in the cue to be completed first.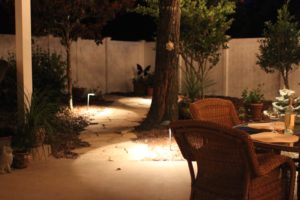 The ground lighting on the paths and uplighting were projects from years past.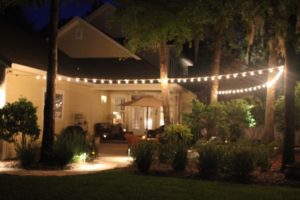 I have always told my real estate buyers and sellers that it is a good idea to do at least on home project a year.  If you can do this your home will never feel dated when you are ready to sell and move on.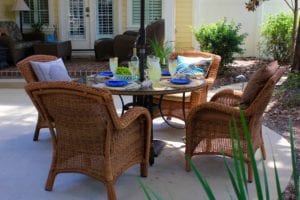 Well, I have shown you the patio after dark. I thought you might like a peek at it in the afternoon.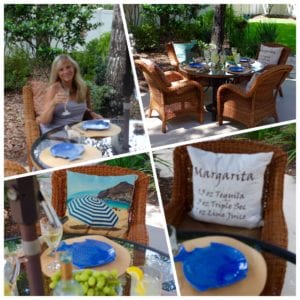 My daytime updates were pillow replacements. I found these neat ones at Tuesday Morning and Home Goods.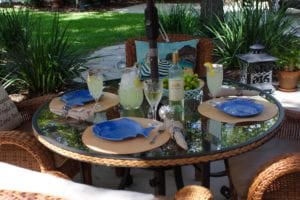 Lemonade or a glass of wine?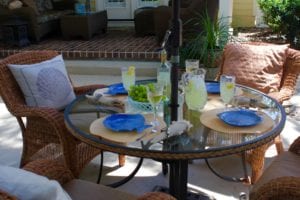 What have been your summer DIY projects? Where do you get your ideals and inspiration? I'm addicted to Pinterest. We found lots of helpful hints and how to install ideas for the lights there. A special thanks to everyone who takes the time to post on Pinterest. It is a wonderful source of information and always fun sharing.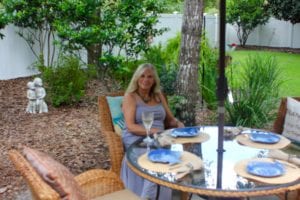 Thanks for stopping by Distinctly Southern Style. you can also follow me on Facebook, Pinterest, Twitter and Instagram or leave me a comment in the section below. I love hearing from you.
Remember to have fun loving and living life to it's fullest!
Rosemary
ps: As always all creative and opinions are my own.
label: Target – dress  label: Lowe's – lights  label:Home Goods & Tuesday Morning-pillows